Meet Dr. Braedon Mitchell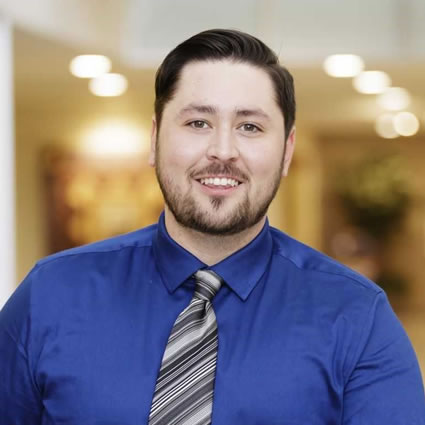 Experiencing the Effects of Chiropractic
In high school, Dr. Mitchell played many sports, including hockey, baseball, volleyball, and track, and dealt with nagging injuries and muscle issues. To get help for those, he saw a chiropractor for the first time. In addition to helping him recover from his injuries, the doctor also gave Dr. Mitchell a lot of good advice.
"I already had an interest in going into some type of healthcare field, and that's when it broke open for me that chiropractic was something I'd be interested in." After graduating from the University of Saskatchewan with a degree in Kinesiology, Dr. Mitchell completed his Doctor of Chiropractic degree from Canadian Memorial Chiropractic College in Toronto.
While at CMCC, one of his aha moments was learning how complicated pain is and how many things can contribute to it, whether it's an injury or stress that's worsening the pain.
Making the Move From Manitoba to Alberta
Dr. Mitchell grew up on his family's crop and cattle farm in a small town in Manitoba. After chiropractic college, he relocated to Alberta as he looked forward to enjoying the mountains and abundant outdoor recreation opportunities in the province. He also has some peers in the area he wanted to be close to.
Joining the Olds Chiropractic and Massage team here in Olds has been a great fit for him. He loves how friendly everyone in the area is.
"I've found it exciting to work with people in the community I'm now part of, and look forward to helping the community in different ways."
A Passion for Helping His Patients
For Dr. Mitchell, his greatest passion is helping people get back to things they can't do currently. It's rewarding for him to see how grateful people are to return to what they love in life and enjoy an even better quality of life than they had before.
Dr. Mitchell's practice style is evidence-based, in that he incorporates the best-quality evidence into his decision-making process.
Chiropractic isn't just about the spine or an adjustment, but about figuring out what's going to fit best in each patient's lifestyle, and how to combine some of our passive care with exercise that they can do on their own."
Outside the Practice
When he's not working, Dr. Mitchell enjoys getting out in nature and staying active.
---
Dr. Braedon Mitchell | (403) 556-6534