Auto Accident Chiropractic at Olds Chiropractic and Massage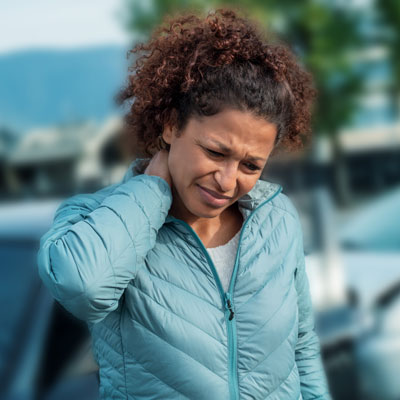 Whether you were involved in a rush hour fender bender or a high speed collision, your body has sustained trauma. Even if you feel okay, other than some soreness, it's important to get checked.
Many people head to the ER, where an X-ray will likely be taken. It's important to remember that ERs will look for the big issues, such as fractures, head trauma, etc., but they aren't looking for muscular soft tissue injuries.
Many of these injuries, joint stiffness, or pain don't show up on imaging. It might be 3-4 days later when a person starts feeling a difference in their pain. That's why chiropractic care is valuable, because we know to look for things that the ER doesn't.
NEW PATIENTS »

'But It Was just a Fender Bender'
Oftentimes a person will have a whiplash associated disorder, so it's best to get checked out to establish a baseline. That's because a few days or a week after the accident, the person will likely feel sore after the initial adrenaline that masked some of the pain wears off. Many people involved in a fender bender think that because their car didn't sustain much damage, they didn't either. That's not true.
What to Expect
If Dr. Adams has ruled out serious injuries, such as head trauma or broken bones, and considers you a candidate for our care, he will take your history and perform a physical exam. He will evaluate your head, neck, upper back or lower back, and any other areas of the body impacted in the accident. Dr. Adams then will provide some form of care.
Our Approach to Care
Dr. Adams can provide the following to help patients recover from the injuries:
This manual therapy is used to address soft tissue injuries.
Patients who are acute following an auto accident may have trouble moving around. Acupuncture is an ideal modality, and Dr. Adams performs this form of Traditional Chinese medicine in our office. He will insert the needles and hook up any stimulation that may be needed.
Dr. Adams provides tailored adjustments that consist of a precise directed movement to help relieve pain and discomfort, and restore range of motion.
Although the muscles may be too guarded for massage after an accident, Dr. Adams may recommend this form of bodywork later in your recovery period.
If Dr. Adams feels these exercises are necessary, he will provide them, based on how well you can move. As you progress, he will eventually provide core strengthening exercises.
Frequently Asked Questions
How long does it take to recover from injury?
Of course, everyone's case is different, but typically it takes about six weeks depending on the problem.
How many chiropractic treatments am I entitled to?
Your auto insurance covers you for at least 10 chiropractic treatments for minor injuries under the Alberta Diagnostic Treatment Protocols Regulation. Chiropractic treatment for minor injuries is directly billed to your insurance company. You do not have to submit receipts for reimbursement.
In addition, every Albertan is entitled to $750 of chiropractic care coverage for more serious injuries (under Section B), but access to these benefits varies based on your auto policy.
No, we refer out for those.
Book an Appointment
If you've been involved in an auto accident, contact Olds Chiropractic and Massage today. We want to help you recover from your injuries and return to your life.
---
Auto Accident Chiropractic Olds, Didsbury AB | (403) 556-6534