New Patients at Olds Chiropractic and Massage
When you call to schedule your appointment at Olds Chiropractic and Massage, our staff will email you our new patient paperwork so you can complete it at home. If that's not convenient for you, you're welcome to come in fifteen minutes before your appointment time to complete it here.
For your comfort, we suggest wearing loose-fitting clothing, as we will be conducting range of motion tests, and restrictive clothing such as jeans hamper your movement.
Your First Visit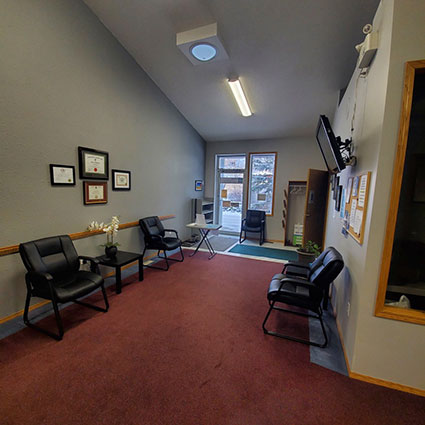 Our cheerful front desk staff will welcome you and make you feel right at home. They'll also verify your insurance coverage. Then Dr. Adams will collect you himself and take you to the treatment room. He'll introduce himself and get to know you, going over your health history and your main complaints, as well as learning how your condition is impacting your life.
Dr. Adams will conduct a thorough physical exam, explaining what he's doing and what he's looking for to help you understand the underlying causes of your pain or dysfunction. He enters his exam notes in the computer and then prints out his report of findings for you. This report is also very thorough, including your diagnosis and our recommendations for the type and frequency of care you need. Dr. Adams will also go over some rehab exercises that are specific to your needs, so you'll be able to do them on your own at home.
Then, if you're ready to begin, we'll start treatment. Depending on your specific condition, we'll do your chiropractic adjustment, appropriate muscle work and rehab exercises (if your treatment plan includes acupuncture, that service usually begins at your second visit). The first visit typically lasts about 45 minutes, and the front desk staff will schedule your next appointment on your way out.
Direct-Billing
We'll let you know the costs of care before we begin treatment, so there are no surprises. We accept cash and credit cards, and we direct-bill your insurance so you don't have to wait for reimbursements.
Get Relief Today
Don't suffer with pain or dysfunction any longer! Contact us today to start care.
CONTACT US »
---
New Patients at Olds Chiropractic and Massage | (403) 556-6534