Chiropractic Care
Our Approach to Care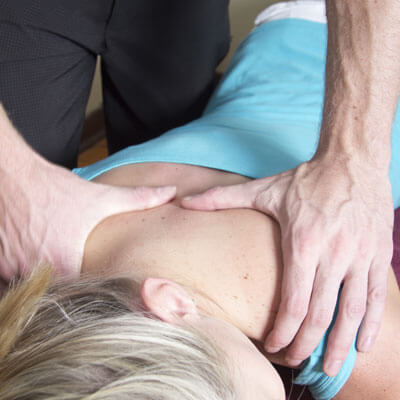 At Olds Chiropractic and Massage, we tailor care to each patient's individual needs and goals, utilizing a combination of treatments and modalities to promote healing and restore function and mobility. Dr. Adams is similar to a mechanic for bodies—he has many tools in his toolbox, and he uses whichever tools are needed to get you feeling better fast, and keep you feeling better.
We incorporate chiropractic adjustments, acupuncture, soft tissue work and rehab exercises to help your bones, muscles and nerves feel better and function better, so you can move without pain and enjoy your life.
Every patient gets some kind of rehab exercises appropriate to their condition. These are important for improving strength and mobility, which helps keep you moving correctly to prevent future issues.
NEW PATIENTS »

Our Techniques
In addition to chiropractic adjustments, Dr. Adams will incorporate other healing techniques and modalities to get you feeling better as quickly as possible. Depending on your specific needs, these may include:
Active Release Techniques® (ART®)
Acupuncture
Decompression (cervical and lumbar)
Electro-acupuncture
Laser therapy
Massage therapy (therapeutic, hot stone, prenatal)
Muscle stim
Rehab exercises
Special Certifications
Dr. Adams is certified in Contemporary Medical Acupuncture, which offers a more function-based approach than traditional acupuncture. He has also completed training through the National Strength and Conditioning Association (NSCA) receiving his certificate as a Certified Strength and Conditioning Specialist (CSCS), which gives him the expertise to design appropriate rehabilitative exercise programs to help with stabilizing and strengthening injured areas and increasing overall mobility. Dr. Adams also holds full-body certification in both Active Release Techniques® and laser therapy treatments.
Care to Keep You Moving
Most of our patients have jobs and lives that place a lot of demands on their bodies. We strive to help you understand the causes of problems and provide solutions—as well as provide the education and tools necessary to help you keep moving without more problems in the future. Our primary goal is to get you out of pain and get you moving again. Once that happens, we want to help you maintain that health and mobility for life.
---
Chiropractic Care | (403) 556-6534